Reverse Rotation Rocker Brush
If you run today's standard low sidewasher c-channel brush in reverse, with direction of car travel, the brush's natural behavior is to pull itself aggressively into the vehicle and grab, therefore damaging the car.
This is why today's standard low sidewashers rotate against the vehicle travel, allowing the vehicle to push against the brush rotation, causing resistance and enabling the brush to retract out and away.
In today's industry, only one arm supports the rocker brush's ability to retract.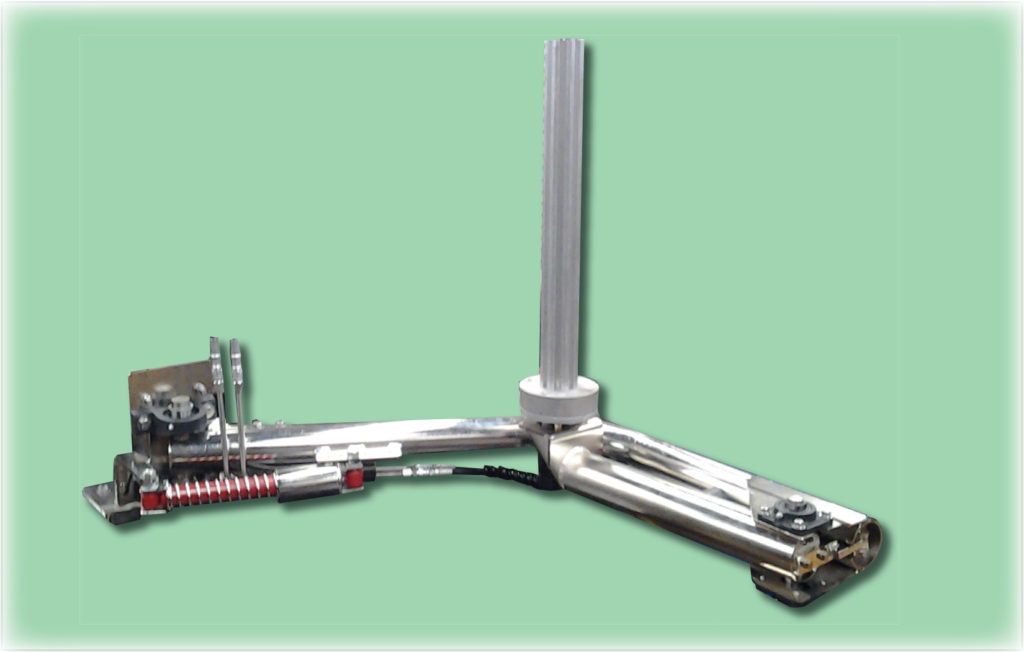 Our patented (primary and secondary arm assembly), however, is a breakthrough design providing the following highlights:
Patent design degree of angle, in the primary arm, allows for retraction support and guide.
Available in stainless steel, standard steel, round tubing.
The primary arm can be floor mounted or post mounted.
Secondary arm assembly is attached to the primary arm.
That secondary arm functions as the brush's main retraction pivot point.
Together the primary arm's special angle and its ability to further retract, allows for both the primary arm and secondary arm to retract away from the vehicle's side when certain pressure is applied and therefore removing the ability of the brush to grab and pull aggressively into vehicle.
This arm assembly is an industry first to allow safe and more gentle touch and wash of the vehicle in any direction the brush is rotating ( reverse rotation with car travel or standard rotation against car travel ).
If you have general product questions or would like additional information about our products, please call or complete the inquiry form and a representative of our company will get back to you as soon as possible.
Thank You for your interest in iWash Technology.
Mailing: 26313 S Hwy 213, Mulino, OR 97042